Paphos Town Hall is a grand building located in the old town of Paphos. With it's impressive columns at the entrance and beautiful wedding room, it's the perfect place for an intimate wedding. The pretty gardens surrounding the Town Hall and the striking, classical building are the perfect backdrop for your wedding photography.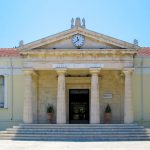 This Amazing Medieval Castle was originally built as a Byzantine fort to protect the Harbour from invaders. Paphos Castle can now be used as a delightful new and quirky venue for civil wedding ceremonies. Situated in the heart of Paphos Harbour this Medieval Castle offers an alternative setting for those who would prefer something a little different and is ideal for wedding parties of up to 25 guests.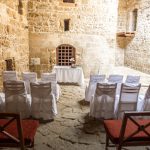 Paphos Town Hall have recently introduced 3 additional venues which allow couple to get married away from the Town Hall and enjoy no venue fees! Lighthouse Beach, Sunset Point and Municipality Park.
And for the history lovers out there, you can exchange your vows at the Ethnographic Museum or Ottoman Baths.
Municipality Fees
Marriage License – €282.00
Additional fee for weddings outside the Town Hall :
Town Hall – No additional fee
Paphos Medieval Castle – €200.00
Sunset Point – €200.00
Lighthouse Spot – €200.00
Ethnographic Museum – €100.00
Municipal Park – €100.00
Ottaman Baths (Hamam) – €100.00
Please note:  All fees are subject to change without prior notice