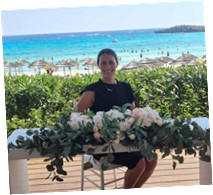 If you're looking for someone to help plan your dream wedding, blessing or engagement in Cyprus, then you've come to the right place. I am the owner, Stephanie, and as a Cyprus bride myself (I met my husband here, we got married here and now live here), I know exactly what it takes to help plan your perfect wedding on this beautiful island.
Cyprus Weddings Ltd has over 10 years experience of planning weddings and blessings on the island of love and we're now looking to help plan yours! It's not easy to plan a wedding or blessing, but even harder when you don't know the area or trying to communicate with lots of different suppliers from miles away. All of our highly recommended suppliers are professional and reliable, and offer competitive prices for our clients.
What we can offer you is a way to bring everything under one roof. As Cyprus Weddings Ltd is an independent wedding planning company, we can coordinate weddings and blessings in most hotels, private venues and all of the municipality venues within the East Coast (Ayia Napa, Protaras and Larnaca) and we have an excellent working relationship with them all! We give honest advice on venues based on your budget and requirements and will guide you into picking the perfect venue for your wedding or blessing.
We do all the hard work for you, so when it comes to your big day you can relax and be stress-free knowing that it's all taken care of. From finding the perfect venue, checking your legal documents are right, booking any extras/suppliers required, showing you round your venue and explaining how the day will go, to town hall appointments and MUCH more. We are there every step of the way, including being present on your big day, so you don't have to worry about a thing!